Zone Picking Systems
The PickMate robot can be retrofitted to the most Zone Picking System setups due to its small footprint design and large working range. The PickMate will ack as a manual picker and can work one, two or three working shifts at your likings.
Too risky to add a robot in your critical production line? Don´t worry, the robot can easily be set aside for whatever reason allowing manual pickers to continue picking.
With our PickMate, you can start small and expand with your needs
Step 1
One robot in one picking station
Step 2
Expand rails to let robot cover two picking stations
Step 3
Expand rails to let robot cover three pick stations
Step 4
Add picking arm no 2 to the robot

Step 5
Add picking arm no 3 to the robot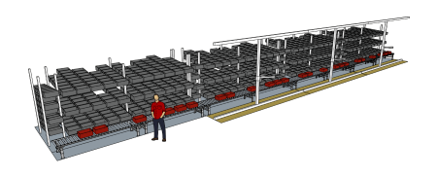 Optional
Remember that the PickMate can two side picking