VLMs, Cube storages or AGVs/AMRs
The PickMate robot can be configured together with many different storage systems. The general benefits are:
Unmanned order picking outside normal working hours
No blocking of manual picking as the PickMate can be set in park position at any time
Together with VLMs
Alternative 1: From VLM to order buffer racks;
Alternative 2: From VLM to AGVs/AMRs;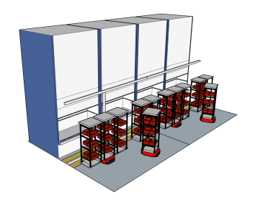 Alternative 3: From VLM to conveyors;
Together with Cube Storage
Using the PickMate in front of one or several ports allows for a shared used of the ports. Manual replenish and automatic picking in the same port sounds as a good idea. And we can propose any form of order buffer solutions.
Example of picking from a cube storage to either order buffer racks or AGVs/AMRs;
Together with AGVs/AMRs
Why not utilize the flexibility and large working range of our PickMate to pick to and from AGVs/AMRs?
From Racks to AGVs/AMRs;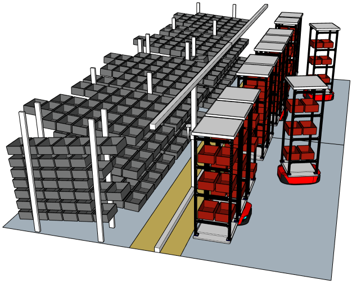 From AGVs/AMRs to AGVs/AMRs;